When you make a gift to Ecumen, you are extending our reach, driving our mission and helping create home for thousands of older adults. A financial contribution to Ecumen makes a difference in the lives of those we serve every day. Thank you!
Like you, Ecumen is faced with unique challenges because of COVID-19. Those we serve are highly vulnerable to this virus, and we've had to adapt quickly and creatively to maintain the health and happiness of our residents, clients, team members, and communities. Because of your generosity, below are a few ways Ecumen has been able to respond to these unprecedented times.
Family Helping Family Fund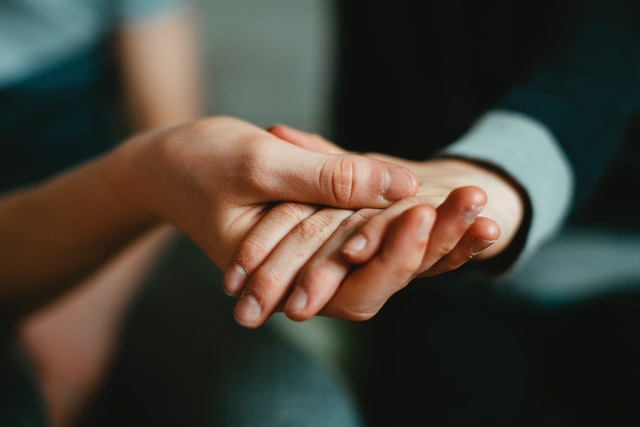 "My bill had been sent to collections. I went to my supervisor to ask how I could get money out of my 401K to pay this bill. Instead, she told me about Ecumen's Family Helping Family program. I completed an application and received the money to pay the bill. This program is a blessing and I am forever grateful to all those who donate to this very amazing program. Since then, I have chosen to donate to this program in hopes that my contribution will help someone else get through a difficult time." – Ecumen Team Member
The Family Helping Family Fund is dedicated to supporting Ecumen team members who show up every day to provide life-honoring care. The above quote is one of many examples of the impact you make when you give to the Family Helping Family (FHF) Fund. Since 2005, over $600,000 has been raised and nearly 600 Family Helping Family grants awarded to team members facing financial challenges. This fund was named Family Helping Family because it started as a fund that only received contributions from Ecumen team members. At Ecumen, team members take care of one another the way a family does. This fund was for team members from team members. With the onset of COVID, there has been an increase in the number of team members seeking support. In order to keep this fund sustainable and continue the meaningful impact, in March 2020, Ecumen expanded the definition of family and now invites members of the public to donate to this important fund.
Ecumen Connection Stations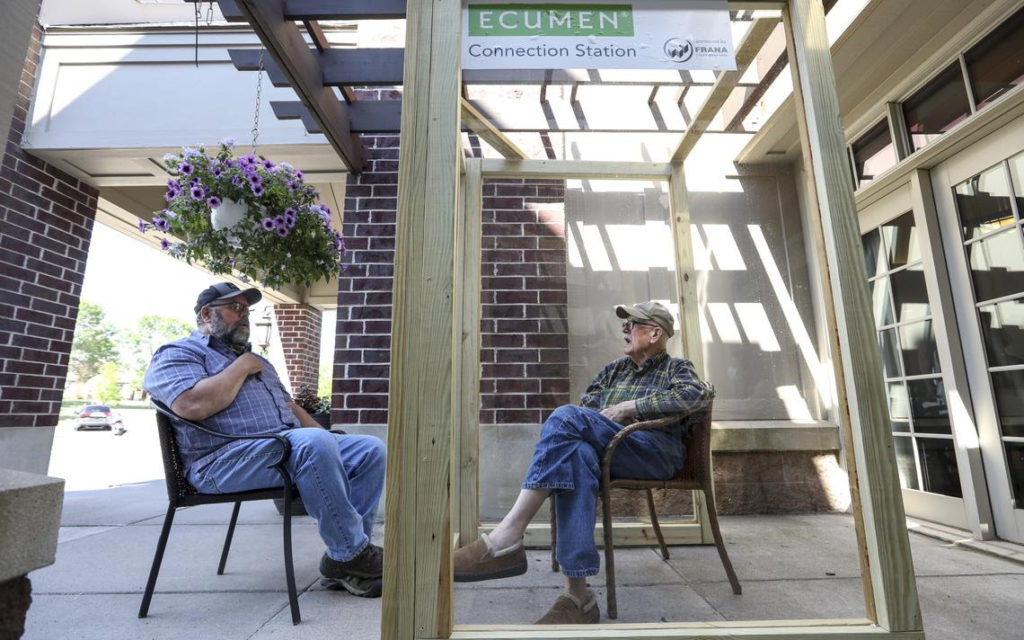 "I'm so grateful for the opportunity to see Dad safely after all of these months."

– Ecumen Family Member
Media Coverage:
The joy of a smile shared between loved ones is powerful. For Ecumen residents, framed outdoor three-sided plexiglass booths called Connection Stations allow cheer, connections, and safety. These booths provide residents, including those with hearing impairments or people living with dementia, a chance to experience a visit across from loved ones without masks for the time of the visit. Video technology has been a welcomed solution for safe visits, but the digital screen doesn't allow for the same emotional presence that is enabled by a Connection Station. These stations were thoughtfully built by Frana Companies, a Hopkins, Minn. contractor at no cost. Generous individual and foundation donors across Minnesota have sponsored entire booths or the cost of the materials, which were discounted by Professional Plastics. 
Ecumen Honor Fund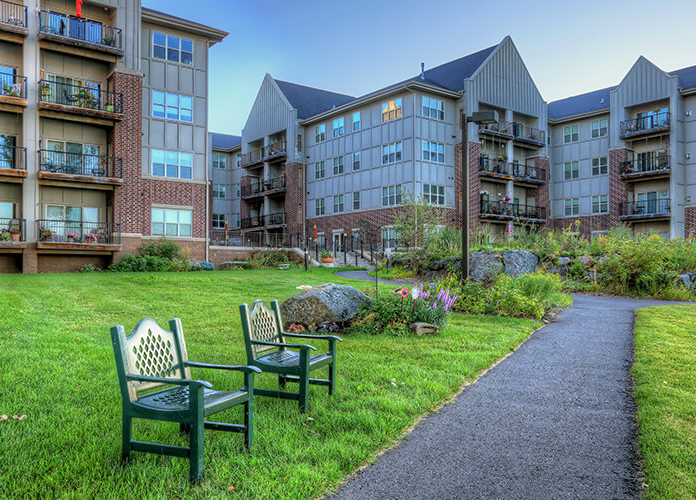 "When my husband suffered a life-altering injury, Ecumen-Lakeshore became home. It was the one place we could find the care Bob's life depended upon. In meeting other residents of Lakeshore, it was evident that they too had found their home within the Ecumen community. As lives and sometimes people's resources change, it is heartbreaking to learn of someone leaving the Ecumen community they love, their home, because of financial constraints. It became important to our family to help build the Honor-Fund by giving annually as well as leaving a Legacy Gift that will continue to positively touch the lives of others within our Ecumen communities." – Debbie Cervenka, Board Chair
The Ecumen Honor Fund (previously known as the Benevolence Fund) was established to support our residents so they can remain in their Ecumen home, should they be faced with financial hardships.
In 2019 Mary, an Ecumen resident of over seven years was faced with the unexpected. Her husband suddenly passed away, just before the holidays. Dealing with the loss of her husband, the approaching holidays and now, how would she manage to pay for their Ecumen home?
With a grant from the Ecumen Honor Fund, Mary was able to remain in her beloved Ecumen home and community. She was overcome with emotion during this difficult time at the news of receiving support, "I couldn't believe it. I want to stay where I am!"
Generous donors, just like you, who have invested in supporting a gift to the Honor-Fund are making a difference for people like Mary. Thank you!
Innovation in Action: Meet ElliQ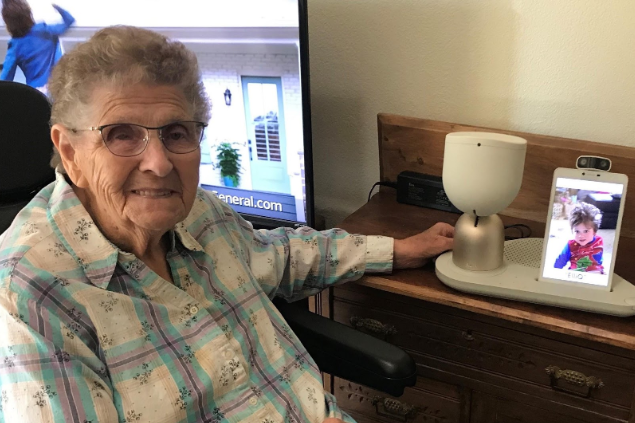 "ElliQ greets me by name each morning and tells me the corniest jokes…that I secretly love. It's a comfort to feel like someone is here keeping me company each day, even asking me how I slept and reminding me to drink water."
– Ecumen Resident
Elli-Q is an AI robot designed specifically for older adults by Intuition Robotics to promote social connectedness. Using real-time sensory data, ElliQ understands situational context, to proactively engage companions over the course of a day. From music to trivia to video calling loved ones, "Elli" gets to know the companion over time and can make jokes and connections that are personalized to each companion. Ecumen residents with an ElliQ have become advocates – sharing their excitement about showing their grandchildren and encouraging friends to sign up for their own ElliQ. The initial pilot project began earlier this year with 22 ElliQ robots, partially funded by a Live Well at Home Grant from the Minnesota Department of Human Services. Intuition Robotics recently developed an Insiders Program, providing Ecumen an additional 60 robots for use by residents.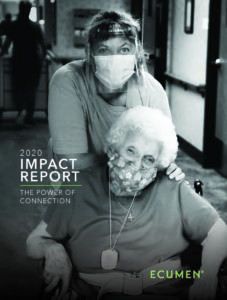 WE'D LOVE TO STAY CONNECTED!
Do you have questions or want to learn more about our initiatives at Ecumen? Subscribe to Philanthropy News, and stay up-to-date on donor news. With your continued support, together, we can meet the ever-increasing need for those we serve now and into the future.