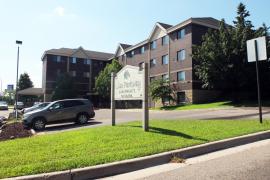 Affordable housing helps create home wherever you choose to live. Ecumen's income-based adult communities honor income eligible residents. Income eligibility is based on an annual income that meets the guidelines established by the U.S. Department of Housing and Urban Development. To find out if you qualify, please contact one of the Ecumen communities below.
Articles
Videos
Related Locations
Legend Key for Housing Options
MC: Memory Care
CC: Care Center
CO: Cooperative
IL: Independent Living
AL: Assisted Living
RC: Respite Care
TCU: Short-Stay Rehab
HUD: HUD Subsidized Housing
SH: Subsidized Housing
We didn't find any entry matching the filters.